Breeding and Raising Liocheles australasiae – the Dwarf Wood Scorpion
Firstly, a million Thanks to guys for considering this article for a special SOTM. This so totally unexpected so thank you giving me this opportunity. I must first state that all this stems primarily from my own personal experience so forgive me for not being able to provide proper citation for much of the general info.

Liocheles australasiae – the Dwarf Wood Scorpion
2 subspecies:
Liocheles australasiae australasiae
;
Liocheles australasiae borneoensis
Family: Liochelidae
(Hemiiscorpiidae/Ischruridae)


Distribution:
The distributive range of this miniature scorpion species is wide and disparate. Isolated populations have been encountered on the islands of Japan, Hawai, Northern Australia and all over South East Asia.
Habitat
: This species is typically encountered inhabiting narrow crevices under the bark of certain trees, but their flattened bodies enable them to take residences in virtually any narrow crack or crevice whether natural or man-made such as brick piles. These specimens have been extracted from separate populations residing in 4 different sites:
1. a tree in an urban residence within the capital city centre of Kuala Lumper
2. a tree in higland area just outside Kuala Lumpur
3. an old chicken shed in a country house in Sri Aman - Sarawak, East Malaysia on the island of Borneo
4. and a brick pile in a human residence in the middle of a city green lung in Kuching City also Sarawak, East Malaysia.
Specimens taken from Borneo are believed to be representatives of the sub-species
borneoensis
I'm sure quite a few of you out there have occasionally come across some of these. They are virtually non-existent in the
Malaysian
pet trade since they are ommonly encountered virtually anywhere in Malaysia, from suburban niches to primary rainforests. Like some scorpion species, these are
parthenogenic
and easy to breed as many of you may have experienced.
The one common dilemma commonly expressed is "how to feed scorplings of such small size?" especially when pinheads are not easily attainable. Other inquiries include the ideal captive conditions to encourage the development of embryos and consequentially partuition. This is all based on my personal experience consisting mainly of trial and error experiments so I won't pretend to be any kind of expert.
Optimal breeding setups
My first attempts were communal setups that emulated their natural habitat as best I could; narrow bark crevices in trees where I collected them in huge numbers. The barks were placed vertical as shown in earlier posts. 3 of the 6 adults I collected, gave birth not long after settling in but after 2 initial births, which yielded around 40 over slings in total, all reproduction ceased for an extended period of time; approximately 6 months. Additionally, incidents of cannibalism prompted me to try something different.
After trying cotton bud dispensers, which were more aesthetically driven than anything else, one of my adults popped in a temporary holding case fashioned from a business-card dispenser. This housing proved most conducive to prolific parthenogenesis. I think it has something to do with isolation as they seem more likely to breed in the absence of bothersome tankmates as their territorial natures would imply. It would seem that though often encountered living arboreally in vertical crevices, partuition seems to go better horizontally. The embryos are clearly visible underneath the tergites of this gravid individual.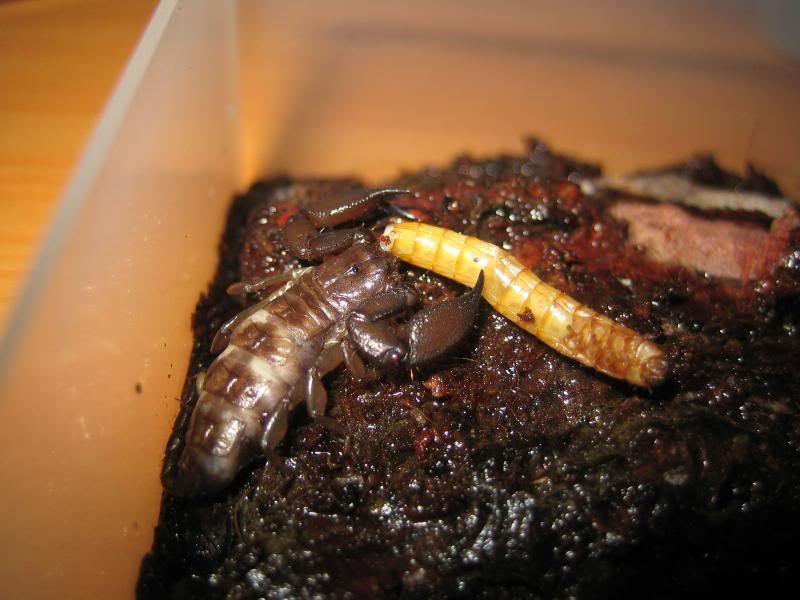 Once effectively isolated, gravid individuals are quick to birth. During this process, it is advisable to not disturb the mother by moving her enclosure, as they are quite sensitive and it may even halt the process mid way resulting in fewer offspring.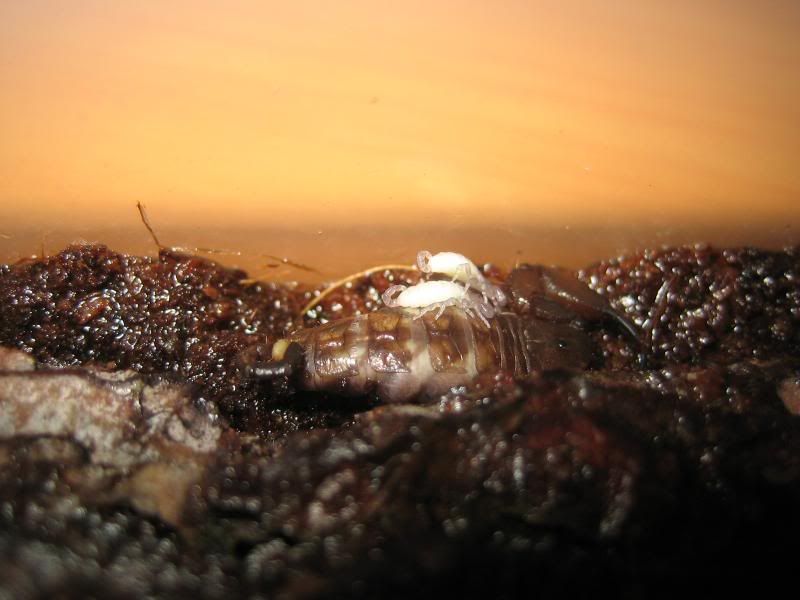 After realizing this one was birthing, I tucked her away and left her for a few days.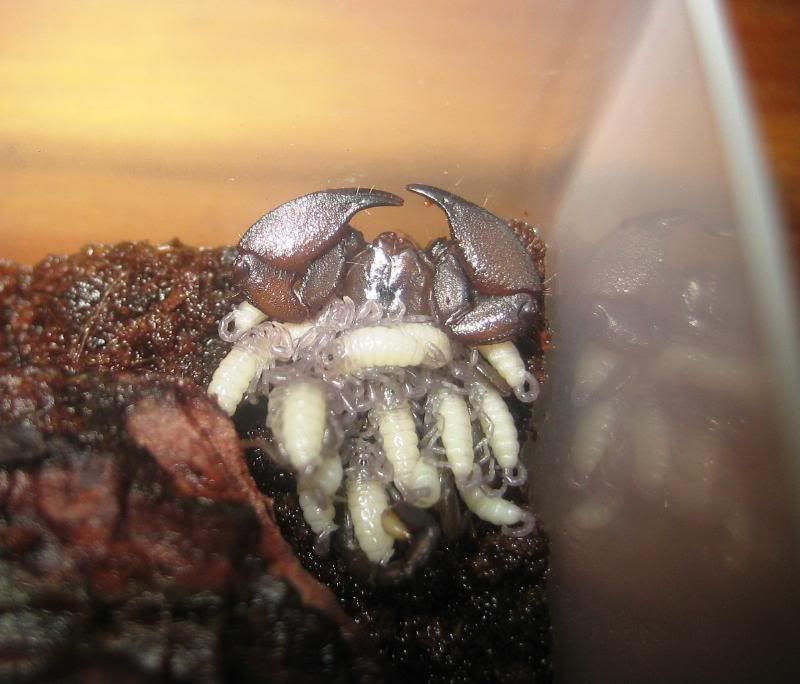 They may have broods of up to 40 babies at a time. Its ok to feed one mealworm at a time as the mothers will need to replenish the expended energy and thus will not feel compelled to consume her own young.
The young are quick to wean at 2i and stay nearby until as late as 4i or even 5i, so it is not necessary to move them any time soon.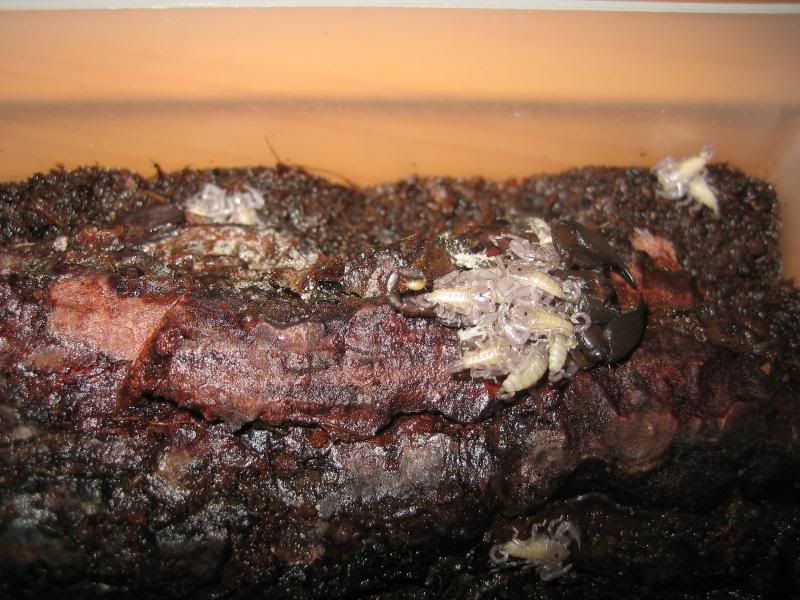 Young broods are not cannibalistic until about 4i or 5i. Prior to this they may even work together to subdue larger prey like a small mealworm.
You may encourage the scorplings to take mealworms by chopping one up into small bits. Gently lift the bark piece under which they hide, sprinkle the mealworms bits on the ground where the bark should be and then place back the hide so that the scorplings on the bark's underside meets with the mealworm bits on the coco-peat surface.
Don't stress too much as they are unlikely to be crushed providing you replace the bark gently. They will no doubt taste the mealworms hemolymph stimulating them to feed. After a couple of times the scorplings will readily mob tossed-in mealies as the wriggle pass a line of tiny chela.
Raising scorplings
Though not particularly communal, scorplings are not inclined to cannibalism below 5i providing you give them enough food.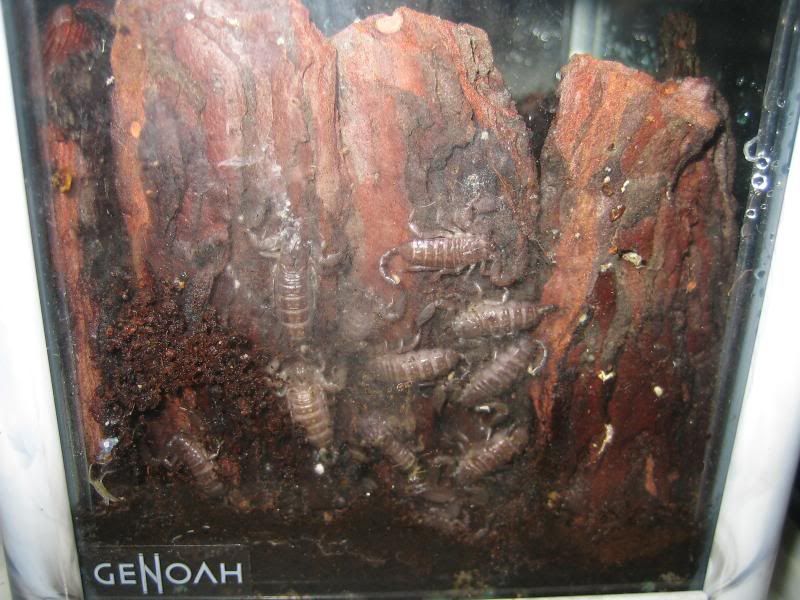 They will gladly clump together even with members that are not immediate siblings.
Individual Housing
At some point, in the interest of monitoring growth rates and minimizing the event of occasional cannibalism, Individual housing is eventually the most ideal option. Feeding them however may take more of your time.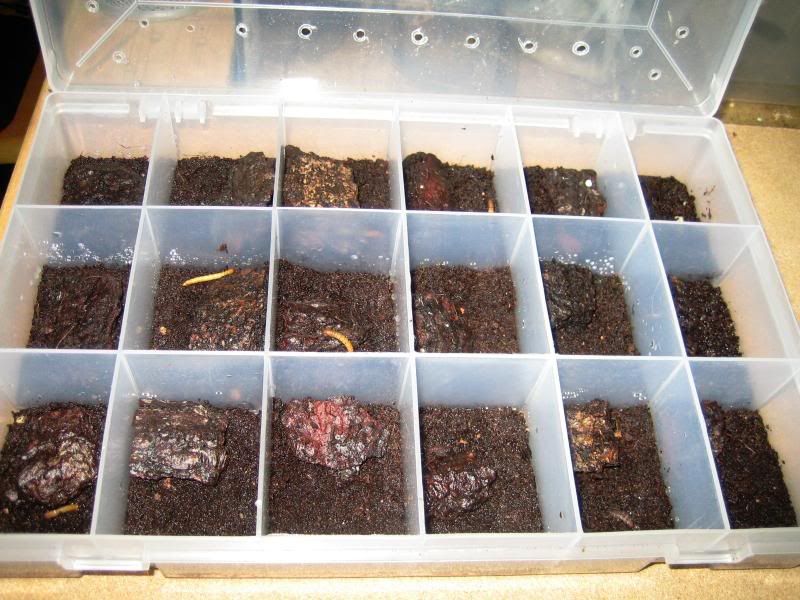 My sub-adults are raised in this multi-compartment storage case available at most hardware stores. I'm looking for one with taller walls and a clearer view.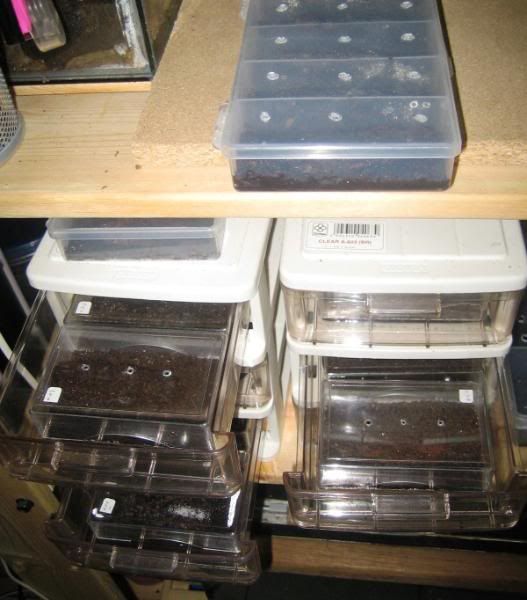 Adults of breeding age are placed in these individual business card jewel boxes and stored in two mini-drawer compartments that I purchased for messing around with.
Currently, my 1st batch of scorplings have reached adulthood and are pending transfer to their own apartments where we will see if they will produce the 1st gen of purely captive bred specimens.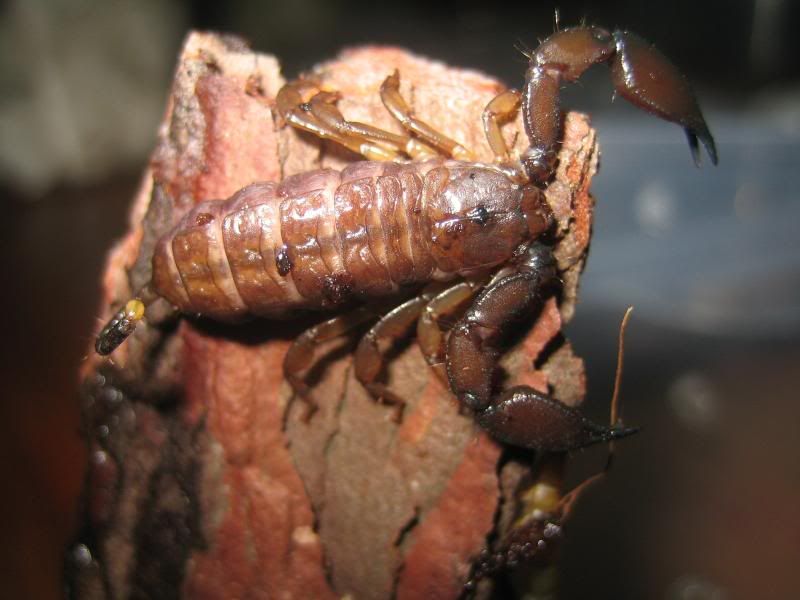 Phew, until next posts. Feel welcome to post comments and suggestions here, even pics of your own setups and colonies. I'm always eager to see someone else's take on keeping these pocket-sized scorps. I'm considering having one on my office table in a small receptacle just to see if my colleagues will even notice it.
I hesitate to call myself an expert but I can push these little guys around with sufficient confidence.

And just to add to that, for transferring tiny scorplings , my tools of choice are: - a spoon, a little brush and a strip of rough-sided paper for them to cling on.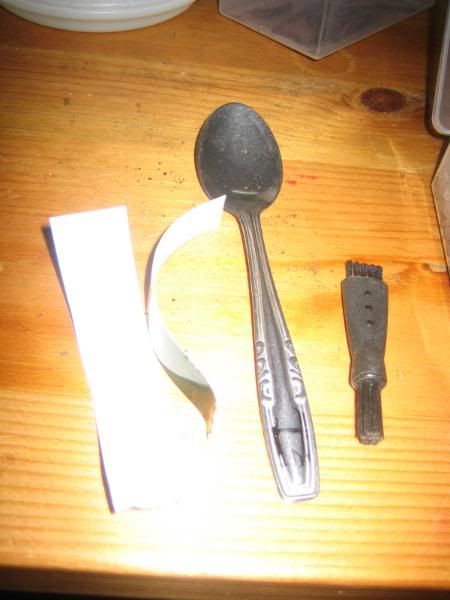 I think the choice of tools determine the method lol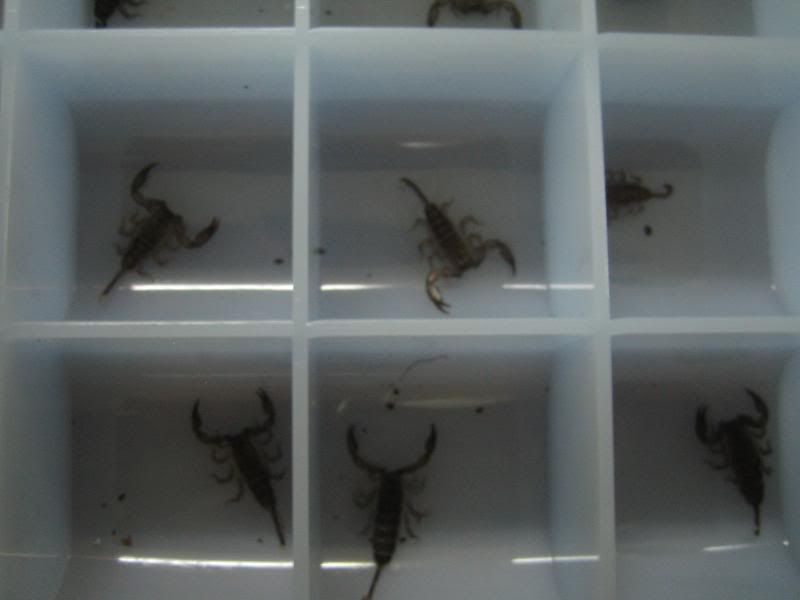 Temporary Housing
While I anticipated setting them up in these: -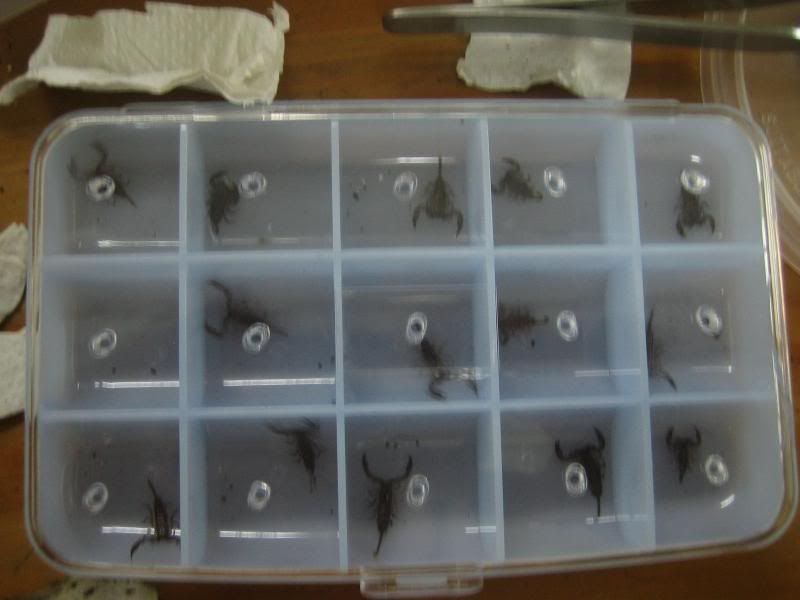 I held them temporarily in these: - two deli cups stuffed with scrunched up damp paper towels.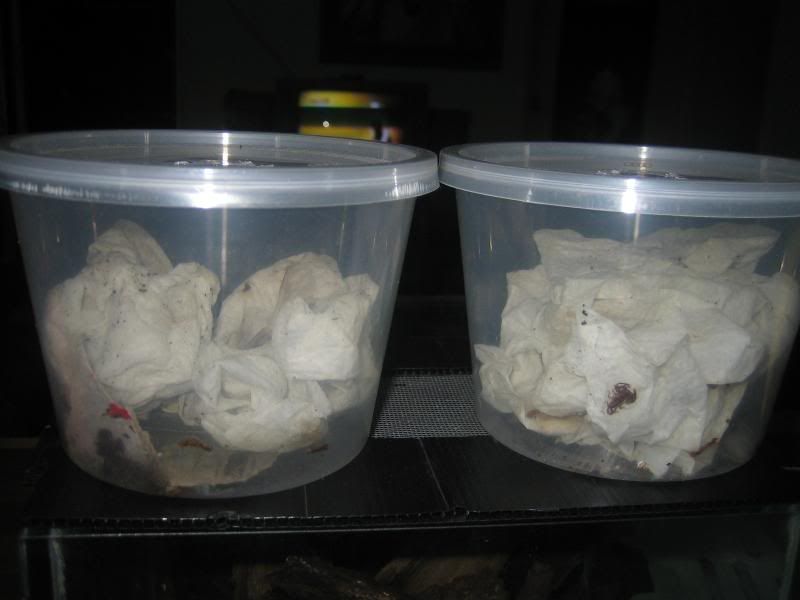 This alternately makes basic, easy to manage housing for scorplings in the event that setup decisions take longer than expected lol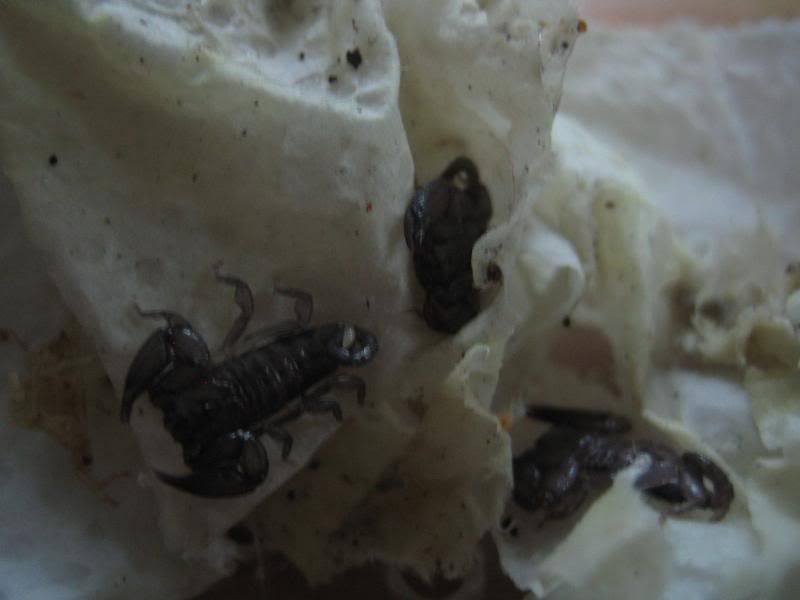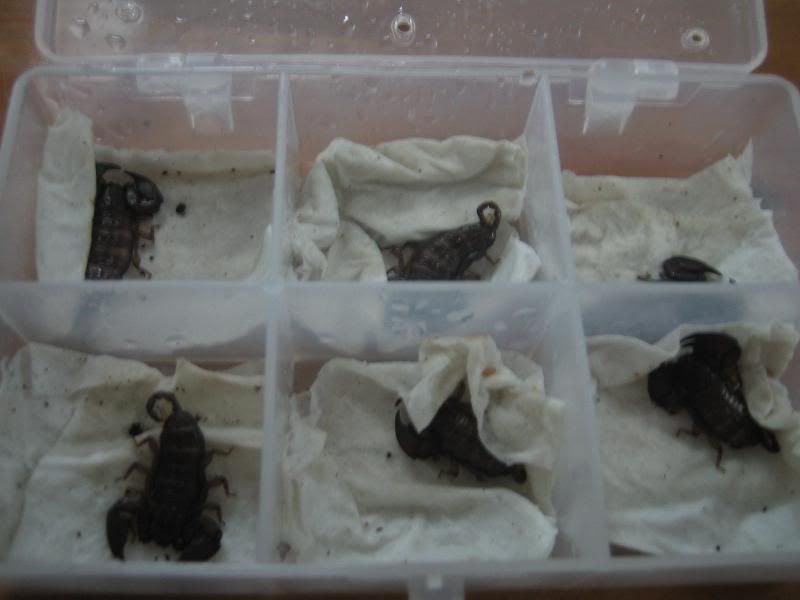 Edited by lxdng79, 09 September 2009 - 12:42 PM.